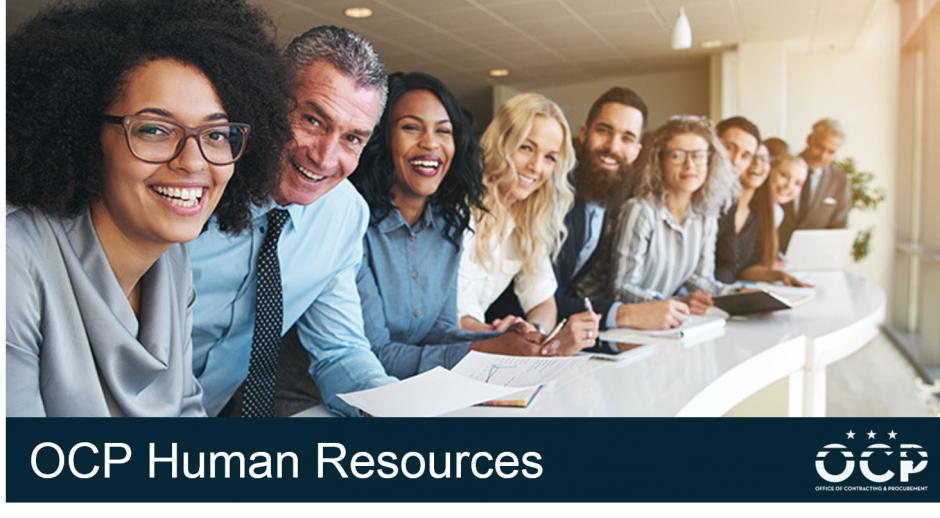 Welcome to the DC Office of Contracting & Procurement Human Resources
Why Should You Become A Part of Team OCP?
The Office of Contracting and Procurement (OCP), a dynamic public agency, managing the acquisition of over $5.6 Billion in goods, services, and construction annually, is seeking to hire business advisory minded professionals. OCP is powered by a robust, diverse team of innovative professionals committed to improving the quality of life for District residents and visitors by supporting the unique programmatic needs of over 78 District Government agencies through contract and procurement with industry.
Our Procurement Training Institute (PTI) offers thousands of classroom hours each year educating and training OCP employees in procurement best practices, current laws and regulations and business advisory skills when engaging with Districts agencies and the vendor community.
OCP's resourceful team also identifies ways to reuse millions of dollars in surplus property by offering it to District agencies, and when there is no need within the government; our team allows businesses, non-profits and sometimes individuals to purchase government surplus assets at deep discounts.
OCP's team of professionals has made the District of Columbia a cutting-edge leader in contracting procurement practices across the nation.
| | | |
| --- | --- | --- |
| The Way We Do Our Business | The Way We Treat Each Other | The Kind of Workplace We Have |
| Quality | Involved | Outperform |
| Integrity | Teamwork | Sustainable |
| Efficiency | Respect & Humility | Put Others First |
| Stewardship | Diversity & Inclusion | Together & Enthusiasm |
| Innovation & Transformation | Customer Commitment | Leadership By Example |
Career Opportunities: D9C Office of Contracting & Procurement uses the DC Department of Human Resources website,
CAREERS.DC.GOV
for accepting job applications. Job seekers are able to:
Import and/or upload an existing resume to create their profile

Easily access their account from a smartphone or tablet device

Create job notifications to receive alerts about new opportunities in their field of interest.
Contract Specialist

ID 14095

CS.1102.13

The Contract Specialist serves as a senior specialist and is the top level within the Contract Specialist job progression series, fully qualified to procure materials for the District. The incumbent uses advanced knowledge of purchasing activities to procure highly specialized and complex goods, services and or equipment.

Closes 9.12.2021

Supervisory Contract Specialist

ID 13635

MS.1102.15

The Supervisory Contract Specialist will manage and supervise the operations of the office. The incumbent directs the development, coordination, facilitation, management, and planning of the annual acquisition of goods and services through contracts, and procurement.

Closes 9.30.2021
Please note carefully the closing dates and times. If you have any technical issues submitting your application, please contact the 24-hour OCTO Helpdesk for Peoplesoft support at 844-450-5726.
The DC Office of Contracting and Procurement (OCP) does not discriminate on the basis of race, color, religion, sex (including pregnancy and gender identity), national origin, political affiliation, sexual orientation, marital status, disability, genetic information, age, membership in an employee organization, retaliation, parental status, military service or other non-merit factor.
View and/or apply for District opportunities at careers.dc.gov now.