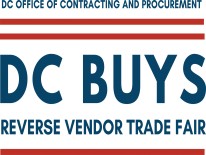 DC Buys is the Office of Contracting and Procurement's annual reverse vendor trade fair. DC Buys provides a unique opportunity for local and regional vendors to directly engage the District's program managers and procurement personnel. Vendors have the opportunity to market goods and services, share capability statements, and learn of upcoming District government procurement opportunities directly from representatives who make purchasing decisions on behalf of their specific District government agencies.
DC Buys is a prime opportunity for vendors to maximize their marketing efforts.
Resources
DC Buys 2019
View photos from DC Buys here.