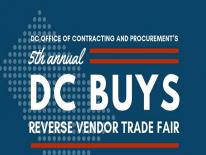 Last Date:
Location:
1300 Pennsylvania Avenue, NW, Washington, DC 20004
Building:
Ronald Reagan Building and International Trade Center
Details:
General Event Information
The DC Office of Contracting and Procurement is pleased to announce its 5th Annual DC Buys Reverse Vendor Trade Fair on Friday, June 14, 2019 at the Ronald Reagan Building and International Trade Center. This event provides a unique opportunity for local and regional vendors to directly engage with District government program managers and procurement personnel. Vendors will have the opportunity to market goods and services, share capability statements, and learn of upcoming District government procurement opportunities directly from those representatives who ultimately make purchasing decisions on behalf of their specific District Government agencies.
Register for DC Buys 2019 today by clicking HERE.
More than 40 District agencies have been invited to participate in the 5th Annual DC Buys Reverse Vendor Trade Fair, including the agencies below:
Department of Small and Local Business Development
Office of the Chief Technology Officer
District of Columbia Public Schools
Department of Parks and Recreation
Department of Human Services
Department of Human Resources
Office of the State Superintendent of Education
Department of the Environment
Department of Forensic Sciences
Department of Transportation
Department of Public Works
Department of Employment Services
DC Commission on the Arts and Humanities
Department of Consumer and Regulatory Affairs
Department of Insurance Securities and Banking
Office of the Chief Financial Officer
Office of Human Rights
Department of Healthcare Finance
Department of General Services
Department of Behavioral Health
Office of Unified Communications
Homeland Security and Emergency Management Agency
And many more...
Who should I contact if I have questions about DC Buys 2019?
If you have any questions about DC Buys 2019, please send an email to [email protected].