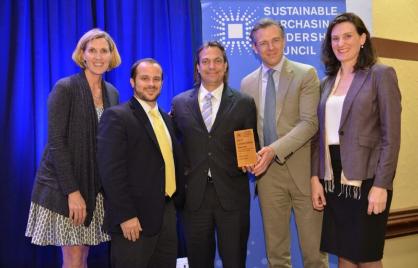 (Washington) – Today, the Office of Contracting and Procurement's (OCP) received the Overall Program Award at the Sustainable Purchasing Leadership Council's (SPLC) 2016 Annual Summit Award Ceremony in Washington.
OCP's Sustainable Purchasing Program was honored with SPLC's highest honor, the Overall Program Award, in recognition of its exemplary leadership in the sustainable purchasing field. The District's award-winning program focuses on implementation by developing sustainable specification and guidance documents for over 100 products across 14 product and service categories. These specifications help the District to harness its purchasing power to further its commitment to sustainability.
This is the second year that the District's Sustainable Purchasing Program received national honors. In June 2015, the District was recognized as the Environmental Protection Agency's Safer Choice Partner of the Year.
"The District is honored to be recognized with this great honor. The sustainable purchasing program represents our efforts to balance the needs of the residents and District government agencies while also acknowledging our important role as stewards of our local and global environment," said George Schutter, Chief Procurement Officer of the District of Columbia and director of the Office of Contracting and Procurement. "Our partnership with SPLC has helped us to refine the District's sustainable purchasing strategy and make it one of the leading programs in the nation," said, George Schutter, Chief Procurement Officer of the Office of Contracting and Procurement.
The SPLC's annual Summit provides visionary purchasing and sustainability professionals, suppliers, and experts from various sectors and regions with the opportunity to share, simplify, and extend the best sustainable purchasing practices across the nation. The theme for this year's summit was "Building the Business Case for Sustainable Purchasing.
Founded in 2013, the Sustainable Purchasing Leadership Council brings together leaders from government, industry, academia, standards organizations and NGOs to develop an integrated guidance, benchmarking, and recognition program for institutional leadership in sustainable purchasing. For more information, visit www.sustainablepurchasing.org.
For more information about the District's Sustainable Purchasing Program, visit www.ocp.dc.gov
###