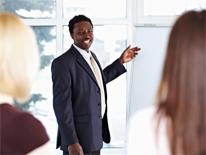 Each month, the Office of Contracting and Procurement, in conjunction with the Department of Small and Local Business Development, hosts a General Vendor Workshop to discuss how to do business with the District. In these sessions, vendors learn the requirements for doing business with the District, the procurement process, and ask any questions they may have.
In addition to the General Vendor Workshop, OCP also hosts a monthly workshop specifically for vendors interested in the DC Supply Schedule, a set-aside market for registered Certified Business Enterprises in the District. At these sessions, vendors are given an overview of the DC Supply Schedule and its application process.
Register for the OCP General Vendor Workshop.
Register for the DC Supply Schedule Workshop.
It is recommended that once after completing the General Vendor Workshop session, vendors also take the computer-based Ariba training which covers the electronic registration process and responding electronically to solicitations.
Select here to Take eSolicitation training.
For more information about the workshops or the computer-based training, please contact OCP's Customer Contact Center at (202) 724-4477.