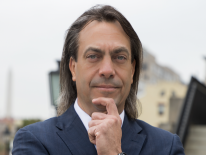 Chief Procurement Officer
George Schutter is an accomplished leader with broad experience in diverse environments in operations, strategy, business development, and executive leadership as well as deep experience in the fields of finance, procurement, and contracts.

Mr. Schutter is currently the Chief Procurement Officer (CPO) for the District of Columbia where he leads the DC Office of Contracting and Procurement (OCP) and oversees over $5.6 billion worth of acquisitions for over 76 District agencies. Appointed by Mayor Muriel Bowser, Mr. Schutter is charged with the overall leadership, implementation and coordination of procurement activities in accordance with the laws and regulations of the District of Columbia. Supported by a staff of 228, Mr. Schutter is also responsible for audit and compliance of procurement activities; certifying personnel in District procurement; and overall agency operations.

Prior to joining the District of Columbia Government, Mr. Schutter served as TechnoServe's Chief Financial Officer (CFO), an international non-profit providing business solution to poverty, where he led financial strategy, procurement, grants, contracts, and systems coordination throughout the TechnoServe global network in over 30 countries.

Mr. Shutter was previously Grant Thornton's Global Public Sector Executive Director in the Middle East, North Africa and South Asia, where he opened regional operations in Dubai's International Financial Center and developed offices in Iraq. He also supported procurement and contract initiatives with the Iraqi government.
Before Grant Thornton, George was the Chief Financial Officer (CFO) of the Peace Corps for four years following serving as the Director of the Office of Contracts for three years as well as the Peace Corps' first Chief Acquisition Officer. At Peace Corps, he was the leader and architect of a reorganization of the global financial and contract management organizations, a reengineering of the integrated strategic planning and budgeting process, the development and certification of an enterprise-wide financial management system, and the development of an internal controls/quality assurance international governance program.

Mr. Schutter has negotiated international contracts with parties ranging from multi-million dollar Fortune 100 corporations to critical sole source services with sole proprietors in post-conflict countries, and has developed organizational acquisition policy and procedures that are common sensible, meet international standards, and are culturally acceptable.

He is a former Major in the US Marine Corps serving for 10 years domestically and abroad, including four years as a Director of a Regional Contracting Office. He has led international efforts on procurement reform, financial management reform, change management, transparency, management strategies, policy formulation, process reengineering, as well as capacity building efforts in developing countries. He has experience in more than 75 countries and is an expert in international finance, procurement, contracts, change management and negotiations.

Mr. Schutter is a licensed Certified Public Accountant, Certified Professional Contracts Manager and Chartered Global Management Accountant. He holds degrees in Accounting from the Illinois Institute of Technology and an M.S. in Acquisitions and Contracts Management from the U.S. Naval Postgraduate School.

He is a resident of the District of Columbia where he lives with his daughter.